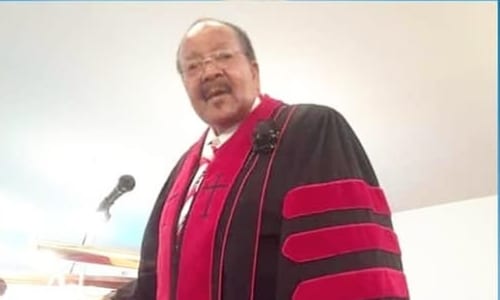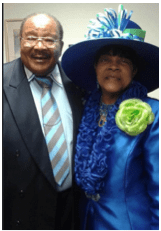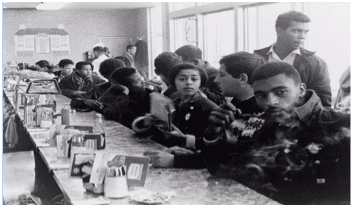 Pictured L-R:Woolworth student lunch counter sit-in demonstration, 1960, Dr. Noel Battle and Mrs. Martha Battle. 
Atlanta has lost another pioneer of the Civil Rights Movement, the Rev. Dr. Noel Battle, one of the foot soldiers in the city's lunch counter sit-ins and one of its most prominent black developers and philanthropists.
Dr. Battle died on July 28 at Emory St. Joseph Hospital in Atlanta after a long illness. He was 87.
"He fought the good fight of faith for as long as he could," said Martha Battle, Dr. Battle's wife of 62 years.
The City of Stonecrest will make history in participating in the trailblazer's farewell. Dr. Battle will be the first civil rights activist to lie in state at the City of Stonecrest City Hall on Friday, Aug. 7, where a public viewing will be held from 1 to 4 p.m.
Stonecrest Mayor Jason Lary said the city is honored to salute the community servant, who had strong ties to DeKalb County through First Comfort Missionary Baptist Church, which Dr. Battle founded in Decatur, his partnership with the DeKalb County School District and the DeKalb County Sheriff's Office, where he served as a chaplain.
"It's important to me that we give honor to those who have paved a way for us," said Mayor Lary. "I want to make sure that we recognize the sacrifices that Dr. Battle and other civil rights activists made. It's because of them that I can fulfill Dr. King's dream and stand before you today as Mayor Lary."
As a young man, Battle participated in the Atlanta Woolworth lunch counter sit-ins in 1960. Battle was a ministerial student when he first heard Dr. Martin Luther King, Jr. preach at a packed house at Mount Zion Second Baptist Church in Atlanta in the 1950s, and was inspired to lead a life devoted to serving the community.
Under the tutelage of Dr. E.R. Searcy, Sr., who was pastor of Mt. Zion, Battle began his ministerial career, which spanned more than 50 years with leadership over five churches. He pastored at White Plains Second Baptist, Mt. Zion Baptist, Little Miller Grove Baptist, Chapel First Baptist, and finally, at First Comfort Missionary Baptist in DeKalb County, where he was founder and pastor for 33 years.
In his early years of activism, Dr. Battle supported the Southern Christian Leadership Conference (SCLC)  and the movement for racial equality behind the scenes through his financial support and his alignment with making Southwest Atlanta the prominent area for blacks to live.
He launched Battle Building and Contracting in 1962, before later taking on his brother, Elton Battle, as a partner, and changing the company's name to Battle & Battle Building and Construction in the late 1960s. He was also the sole proprietor of Battle Shell Service Station, which he opened in 1966.
Battle & Battle Building and Construction built homes for many prominent black doctors, lawyers, educators, entertainers, athletes and others throughout Southwest Atlanta including the Rev. A.D. Williams King, civil rights activist and brother of Dr. Martin Luther King, Jr.
Battle and Herman Russell, another prominent developer, were among the first black contractors to receive commercial loans for construction from the black-owned Citizens Trust Bank in the 1960s.
A distinguished career
Battle was an Army veteran, serving a tour as a medic. He received an honorable discharge as a Private First Class.
An advocate for equal pay and equity for blacks in the building and construction sector, he served as president of the Local Union 234 for six years.
Battle served as superintendent of the Atlanta Housing Authority for 20 years, before retiring to pursue full-time ministry.
Dr. Battle took his servant leadership to DeKalb County in 1987, when he founded First Comfort Missionary Baptist Church. He forged a partnership with the DeKalb County public schools' system, worked to help the socioeconomically disadvantaged by establishing annual food drives, clothing drives and providing warm coats to the needy in the winter.
"Each one of us is only as far along has the help we have had in getting to where we are today," he would often say. "And I had a lot of help in getting to where I am today."
Humble beginnings, education, and honors
Noel Battle was born in the small town of Union Point, Georgia on Jan. 26, 1933, the sixth of 11 children of John and Mary Ellen Battle. He would often talk about hard labor and working long hours at the sawmill.
He was a product of the Green County, Georgia public school system, where he excelled as a student athlete, competing in track and field, particularly the high jump event, which he qualified for state competition.
In August 1958, Noel Battle married Martha Hall, who also was a product of Greene County public schools, where she was salutatorian. They had one daughter and three sons.
Dr. Battle was passionate about education, believing that it was the gateway to possibilities for all people of under-represented cultures.
"A person can only live to the level of their learning," he would often say.
Dr. Battle earned his bachelor's degree in Biblical Studies from Carver Bible College. He earned his master's and doctoral degrees in Theological Studies from the American University of Theology School. He was also a State of Georgia certified Power Engineer, and studied at Atlanta Area Tech and Kentucky State University.
He was a member of Alpha Phi Alpha fraternity and the Prince Hall Masonic fraternity.
Dr. Battle was a member of the New Era State Convention of Georgia, Inc. and Atlanta Baptist Ministers Union. He served as a chaplain for the DeKalb County Sherriff's Department and the Fulton County Sherriff's Department. In 2008, he was honored at the 23rd Annual Martin Luther King, Jr. College of Ministries and Laity as a Preachers' Preacher at Morehouse College.
Public viewings, homegoing celebration set
There will be a public viewing of Dr. Battle  on Thursday, Aug. 6, 4 to 7 p.m., at First Comfort Missionary Baptist Church 1955 Columbia Drive, Decatur.
Dr. Battle will lie in state at the City of Stonecrest City Hall on Friday, Aug. 7, where a public viewing will be held from 1 to 4 p.m. The family is requesting that all Covid-19 guidelines and protocols be followed.  Everyone is asked to wear a mask and gloves.
A private homegoing celebration will be held for family and invited guests on Saturday, Aug. 8 at First Comfort Missionary Baptist Church and Greenwood Cemeteries. The service will be live streamed.
Dr. Battle is survived by his wife, Martha; daughter,  the Rev. LaShandra Battle; son and daughter-in-law, Dexter and Cernitha Battle; son and daughter-in-law the Rev. Dr. Johné and Amecia Battle; son and daughter-in-law, the Rev. Keith and Cheryl Battle; 15 grandchildren; 12 great-grandchildren; brother and sister-in-law, the Rev. James H. and  Mary Battle;  sister and brother-in-law, Ellis and Helen B. Williams; and sister, Lou Ellen Breed.