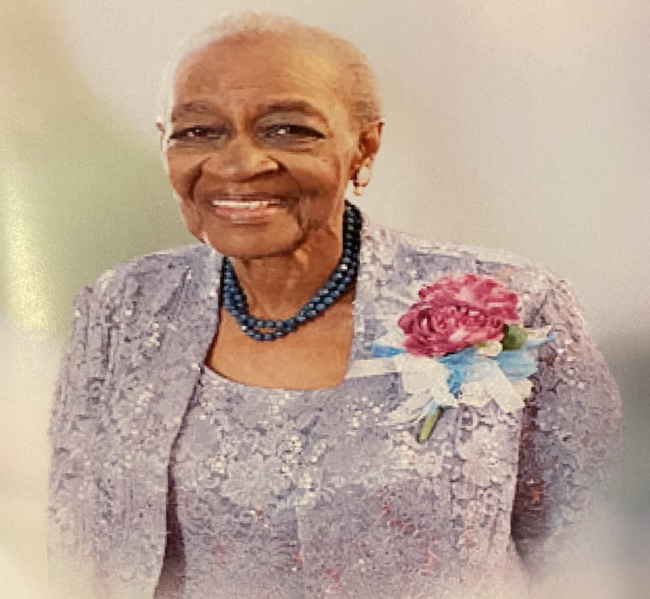 Jan. 2, 1936 — Oct. 30, 2021
LITHONIA, GA–Barbara Ann Woods Lester, a former Lithonia City Council member, was laid to rest on Saturday, Nov. 6. Mrs. Lester, 85, passed away on Oct. 30 after a long illness.
Lithonia Mayor Shameeka Reynolds, Stonecrest Mayor Jason Lary and former DeKalb County CEO Burrell Ellis were among the dignitaries who attended the homegoing celebration for Mrs. Lester at the Willie Watkins Event Center in Lithonia. Ellis was among several speakers who provided reflections, as well as Mayor Reynolds, who presented a proclamation on behalf of the city of Lithonia. The Rev. Marvin Crawford, MD, of First St. Paul AME officiated the service and Pastor Roger Woods, III served as eulogist.
Mrs. Lester served on the City Council in the early 2000s. She was the first Director of the Lithonia Department of Community Affairs. She also was instrumental in erecting a memorial for veterans at the historic Bruce Street Cemetery and Kelly Park in the City of Lithonia, as well as organizing the city's first Veterans Day Parade. Mrs. Woods also served on the study group for the Arabia Mountain National Heritage Area. She was a long-time member of St. Paul AME (now First St. Paul AME) in Lithonia.
Mrs. Lester hailed from a family of city leaders. In 1972, her late mother, Maggie Woods, became Lithonia's first black councilwoman. In 1981, her brother, Jerome Woods, was named the city's police chief, a position he held for 19 years.  In 1995, her sister, Marcia Glenn Hunter, was elected mayor of Lithonia.
Mrs. Lester was born on Jan. 2, 1936, the eldest of eight children to the union of Roger and Maggie Carolyn Woods in Lithonia, GA. The Woods' family's roots can be traced to Samuel Wood, who was born in 1790 in Sierra Leone, Africa and brought to Newton County where he was sold to slave owner Carey Wood.  The Woods eventually moved to DeKalb County, where they settled in Lithonia and became lifelong residents.
Mrs. Lester began her early education at Bruce Street Elementary and High School in Lithonia. As an adolescent, she moved to Portland, Oregon, with a white family who had befriended her mother. The family was given guardianship on the condition that Barbara would finish school in Portland. Barbara graduated from Franklin High School in Portland. As a young adult, she went on to receive her LPN license from Beaumont School of Nursing returning to Georgia to  her nursing career with Gross and Dunbar in Atlanta. She married the late Bobby Lee Lester, Sr. and they had two sons.
Mrs. Lester is survived by her sons, Charles D. Lester and Bobby Lee Lester, Jr. (daughter-in-law Angela), and their children, Marnaisa and Madrian; brothers Roger Woods, Jr., Jerome Woods and Kenneth Woods; sisters LaVerne Woods Baker (Howard) and Marcia Woods Hunter (Willie); grandchildren, and a host of nieces and nephews.
Brown and Young Funeral Home in Lithonia handled the funeral arrangements.
Lithonia Mayor Shameeka Reynolds issued the following proclamation at the Saturday, Nov. 6, 2021 homegoing service for  Barbara Ann Woods Lester: