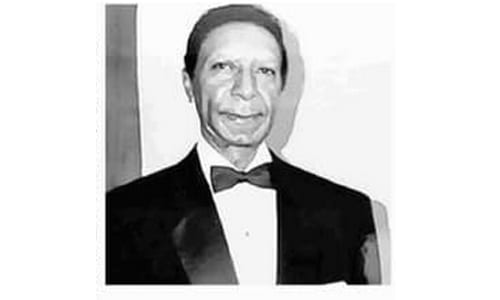 Dec. 6, 1930- Sept. 12, 2020
Family and friends will celebrate the life of Nesby Thomas, Jr., DeKalb County's first black courtroom bailiff, on Saturday, Sept. 19. Mr. Thomas, who lived in Avondale Estates, passed away on Sept. 12. He was 89.
Mr. Thomas was remembered by his son, prominent DeKalb County Attorney Dwight Thomas, who expressed his deep love for the man he called his "hero."
"This is a day of great loss for a man I called my 1st and No. 1 hero…"Attorney Thomas wrote in a Facebook post on the day of his father's passing. "I pray his journey is filled with grace and glory."
Nesby Thomas, Jr. was born on Dec. 6, 1930 to the late Nesby Thomas, Sr. and Silica Allen.  He grew up in Scottdale, the third of six children. Educated in the DeKalb County School System, he graduated in 1949 from Avondale Colored High School (later renamed Hamilton High School).
He married Ida Lois Anderson of Lithonia on Feb. 24, 1951. Three months later, he went off to serve in the U.S. Army in the Korean War, touring from May 1951 to May 1953. He received a letter of commendation for his service as a Korean War veteran. When he returned home, he and his wife Lois, purchased property through the GI Bill and they built a home in Avondale Estates, where they raised their family. They were married for 66 years with Lois Thomas passing away on Dec. 5, 2016, the day before her husband's 86th birthday.
Mr. Thomas was employed by Frigidaire for more than 37 years. He became DeKalb County's first black courtroom bailiff in 1981 when he was hired by Judge Clarence Seeliger, who defeated 30-year incumbent Judge J. Oscar Mitchell. Mitchell was the judge who sent Martin Luther King Jr. to prison on a probation violation charge for a traffic ticket and a sit-in arrest.
Mr. Thomas was not only a trailblazer as DeKalb's first black courtroom bailiff, his storied past includes playing baseball in the National Negro Leagues, where he was a pitcher. Prior to the National Negro Leagues, he had played baseball during his military tour. While stationed in Germany, he  passed away the time playing baseball as the first black pitcher for his unit.
Mr. Thomas also worked part time as an umpire and referee for 13 years for the City of Atlanta Department of Parks and Recreation.
In addition to baseball, Mr. Thomas was a golf fanatic. He frequented courses throughout the metro Atlanta area and played at the Augusta National Amateur Competition during the 1980s.
Mr. Thomas was a member of New Chapel Baptist Church in Scottdale, where he served as a deacon for many years.
Mr. Thomas is survived by his children of his marriage to Lois: Dwight L. Thomas; Terry L. Thomas; Angela C. Thomas; Nesby C. "Chris" Thomas(wife, Priscilla); and Abigail "Abbey" Thomas. He is also survived by his daughter, LaDema Thomas Davis; and a host of grandchildren, great-grandchildren; nieces; nephews; and cousins.
Due to COVID-19 pandemic restrictions, only invited guests will be permitted to attend the celebration of life service for Nesby Thomas, Jr. The service will be held on Saturday, Sept. 12, 1 p.m., at the Gregory B. Levett & Sons Funeral Home's Scottdale Chapel, 351 N. Clarendon Ave. The service will be live streamed at LevettFuneralHome.com.
Interment will be held immediately after service at New Macedonia Missionary Baptist Church, 7714 Rockdbridge Road Lithonia.