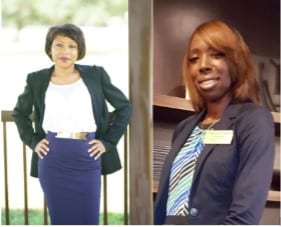 Connie Alsobrook, and Valyncia Smith
On Wednesday, Jan. 8, the City of Conyers will make history as the first two black women elected to the Conyers City Council in the city's 165-year history are sworn in.
Valyncia Smith, who was elected to the District 4 seat, and Connie Alsobrook, who was elected to the District 2 seat, made history with their victories on Nov. 5, 2019. They will be sworn in by Rockdale County Magistrate Judge Phina Aten.
The ceremony and program will take place at 7 p.m., at the Cherokee Run Golf Club, 1595 Centennial Olympic Parkway, Conyers. A reception will follow the program. The public is invited to attend.