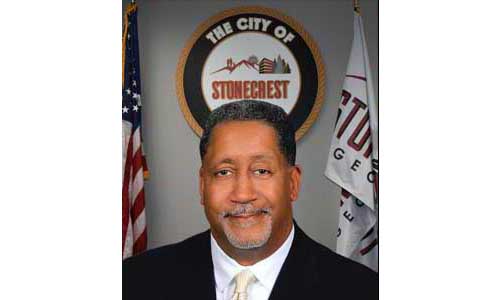 STONECREST–On Monday (Oct. 12), the city of Stonecrest will welcome voters to the largest Early Voting precinct in DeKalb County and one of the largest in the state.
The DeKalb Board of Elections is moving 30 voting machines into the future Stonecrest City Hall, which is the site of the former 130,000-square-foot Sam's Club, located at the corner of Turner Hill Road and Stonecrest Parkway. Officials said about 40,000 square feet of the building would be used for the voting precinct.
Mayor Jason Lary said the city is pleased tooffer the site as DeKalb's largest Early Voting site. Any DeKalb County registered voter may use the Stonecrest facility to cast their ballot during the early voting period. Voters must go to their assigned precinct on Election Day, Tuesday, Nov. 3.
"Voting is more important now than ever before.  Upholding a free and fair election is what our democracy is built on," Lary said. "We will ensure that everyone feels safe when they exercise their right to vote."
Mayor Lary said COVID-19 procedures will be practiced during Early Voting with masks required and provided if necessary at the Stonecrest precinct.
The 700,000-square-foot Atlanta Hawks State Farm Arena in Fulton County is Georgia's largest Early Voting precinct with 302 voting booths.
The Stonecrest Early Voting Precinct will be open Oct. 12-30, 7 a.m. to 7 p.m., Monday through Friday, and from 9 a.m. to 6 p.m. on Saturdays, and noon to 6 p.m. on Sundays.
For more information, please contact Stonecrest Elections Supervisor/City Clerk Megan Reid at mreid@stonecrestga.gov or the DeKalb County Voter Registration and Elections Bureau at 404 298 4020.