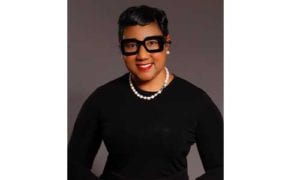 DEKALB COUNTY, GA—DeKalb County Commissioner Lorraine Cochran-Johnson will partner with the DeKalb County School District and the DeKalb County 100 Black Men to host the 3rd Annual Lock-in for Life, a program designed to promote healthy relationships among middle and high school teen males.
The four-hour event will be held Friday, Dec. 10, 6 to 10 p.m., at Redan High School, 5247 Redan Rd, Stone Mountain.
The program was designed after taking a critical look at the needs of male students within DeKalb schools and the unique challenges they face, officials said. The program seeks to fill the gap that a modern education may not be equipped to bridge.
"The Lock-in for Life has a core focus of youth empowerment, a process in which children and young people are encouraged to take charge of their lives," Commissioner Cochran-Johnson said. "Youth can do this by addressing their situation, taking action to improve their access to resources, and transforming their consciousness through their beliefs, values, and attitudes."
In addition to promoting the mentorship of DeKalb County's male youth, the event also will address bonding, social preparedness, soft skills, critical life skills and conflict resolution. Featuring an all-star cast of some of DeKalb's most distinguished male professionals, civic leaders, attorneys and community members, attendees will participate in candid discussions on topics critical to their development as young men.
"The needs of our male youth are not completely addressed by modern education," said Andre Deas, president of DeKalb County 100 Black Men. "Increasingly, our teen males need mentors and a support system to cope with the pressures of their home life and environments."
Topics of discussion will include "Am I My Brother's Keeper?," "Ignorance Is No Defense," "Mental & Social Preparedness" and "A Call To Manhood." During each panel discussion, program participants will hear from distinguished panel members including nationally acclaimed poet and civic activist Hank Stewart; retired DeKalb County Police Major K.D. Johnson; author Omar Howard; Judge Anthony Scott; entrepreneur Rashad Davis; motivational speaker Deymon Fleming, Jr.; president of Black Men & Women of Valor Asante Hill; DeKalb County School Board member Dijon DaCosta, and many other notable local celebrities and community personalities.
Program participants will enjoy games, trivia, food trucks and fellowship. Transportation is available and parents are encouraged to register their children for free by visiting www.LockInForLife.com.
.