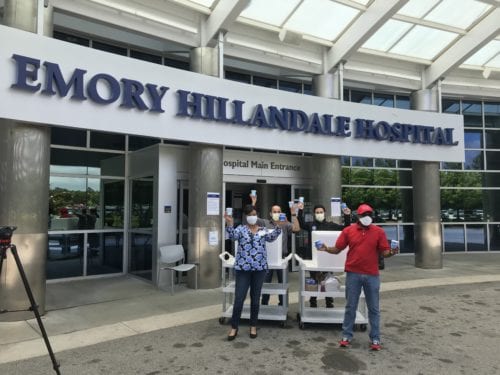 DECATUR—DeKalb County Commissioner Larry Johnson and Dairy Queen on Flat Shoals Parkway celebrated the frontline medical staff at Emory Hillandale Hospital with an ice cream social.
Dairy Queen donated 200 blizzards to the staff to say "thank you" for their tireless efforts and to help brighten their day.
Johnson said the real heroes are the frontline workers who are putting in long hours daily in response to the COVID-19 pandemic.
"We are excited to partner with Dairy Queen to make things happen in our community. It is all about giving back.  This small token of appreciation made an already sweet staff, even sweeter," Johnson said.
Johnson was joined on site by  Kim Bentley, vice president, administrator of Emory Hillandale Hospital; Dairy Queen management; Kendra Price, Emory Government Affairs Manager.