DEKALB COUNTY, GA—DeKalb County Commissioner Larry Johnson kicked off the District 3 Concert Series: Thriving Thursdays at the Rainbow Park Amphitheater, 3181 Rainbow Drive, Decatur.
The June 1 event was dedicated to celebrating DeKalb County CEO Michael Thurmond, and DeKalb County employees. The electric evening event welcomed an intergenerational crowd of more than 1,400 people.
Hosted by Christopher Cornell, also known as "Cocktails," the community gathered to hear live music from Atlanta saxophonist Ryan Kilgore and friends. Kilgore is a fourth-generation saxophone player, a native of Atlanta, Georgia, and a graduate of a District 3 High School (Southwest DeKalb).
Ryan has recorded with many of the greatest superstars both nationally and internationally – Prince, Sting, Jeff Beck, John Legend, Ed Sheeran, Gladys Knight, The Jonas Brothers, 2 Chainz, T.I., Dave Chappelle, Andy Lau, Daniel Levi, and Alsou to name a few.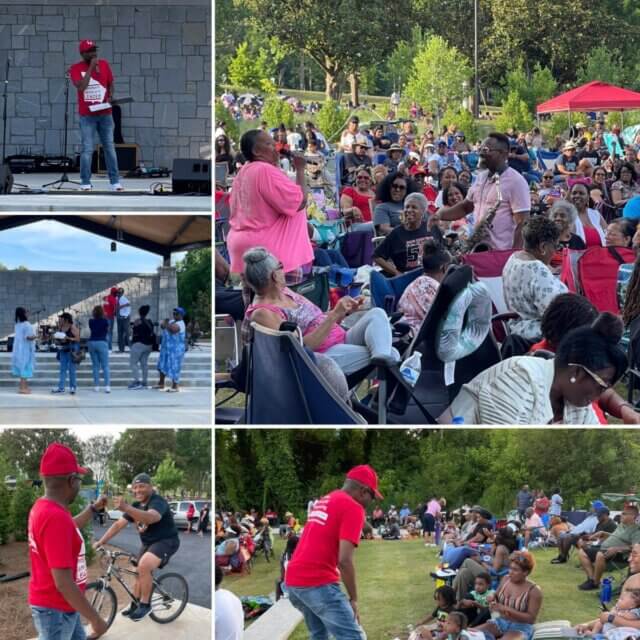 Commissioner Johnson honored Ryan for his work and commitment to the Arts by presenting him with a proclamation for Ryan Kilgore Day in DeKalb County.
Joining Ryan on the stage was his longtime friend, Brooke Alford, the Artist of the Violin. Brooke is a Mark Wood Violins International Teaching Artist who is passionate about working with young people.
Musical tunes were provided by DJ Feel X. DJ Feel X has over 30 years of DJ Experience and is one of Radio One's main DJs, and founder of 247mixing.com.
"We wanted to be sure to honor the great work, time, and commitment of DeKalb's employees," said Commissioner Johnson. "These individuals help to make sure the county runs and all of the pleasures that we love and enjoy about the county would not be possible without them."
Attendees were also able to "Paint and Sit," enjoy sweet treats, food trucks, and a host of other activities.