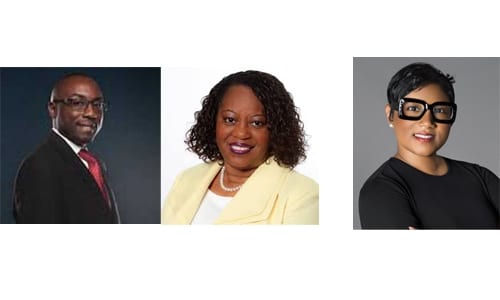 DeKalb County commissioners: L-R Larry Johnson, Mereda Davis Johnson and Lorraine Cochran-Johnson
Three DeKalb County commissioners are demanding immediate action from DeKalb elections officials concerning the long waiting times voters are experiencing in South DeKalb precincts during early voting.
Commissioners Larry Johnson, Mereda Davis Johnson and Lorraine Cochran-Johnson(none of whom are related) e-mailed the letter this afternoon (Oct. 15) to DeKalb Supervisor of Elections Erica Hamilton and Sam Tillman, who heads the DeKalb Board of Elections.
The commissioners said that many precincts in South DeKalb, which has a predominately African American population, have experienced 4- to 5-hour wait times, while North DeKalb precincts are moving voters through within an hour.
As the demographics of South and East DeKalb clearly show the highest concentration of African American voters in these areas, we are disturbed and troubled by the voting irregularity pattern we have seen. The ElectioNet slowdown has been a statewide issue and should have affected all sites equally," the commissioners stated in the letter.
"As we move forward, we ask that you provide answers and immediate corrective action to the issues we have raised."
On Common Ground News has not heard back from DeKalb Elections officials. We will continue to reach out.
Following is the commissioners' letter to DeKalb elections officials: