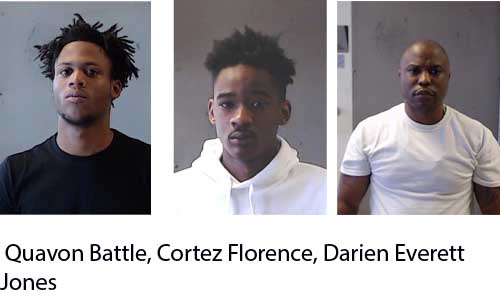 DEKALB COUNTY, GA– The DeKalb County Sheriff's Office Fugitive Unit and Field Operation Uniform Section report the arrest of suspects in three unrelated murders in DeKalb County.
On Oct. 20, sheriff's investigators arrested Decatur resident Quavon Shenard Battle, 22, without incident near Johnson Road in Atlanta. According to an arrest warrant, Battle is accused of Murder in the shooting death of Decatur resident Frederick L. London on Oct. 11, 2021 during an alleged drug transaction at a fast food restaurant on Memorial Drive in Decatur.
Also, on Oct. 20, the DeKalb Sheriff's Office Field Operation Uniform Section, along with the US Marshals Service, arrested Cortez Damon Florence, 18, of Lithonia on a Murder warrant in connection with the shooting death of Devan Jackson. Authorities say the shooting occurred during a fight among several people on Mount Vista Road in Stone Mountain on Oct. 15.
On Oct. 21, sheriff's investigators arrested Decatur resident Darien Everett Jones, 41, without incident. arrest Jones is charged with Murder in the shooting death of Patrick Ponder on Lynn Iris Drive in Decatur on Oct.15. No motive was given for the shooting.
All suspects were transported to the DeKalb County Jail, where they are being held without bond.