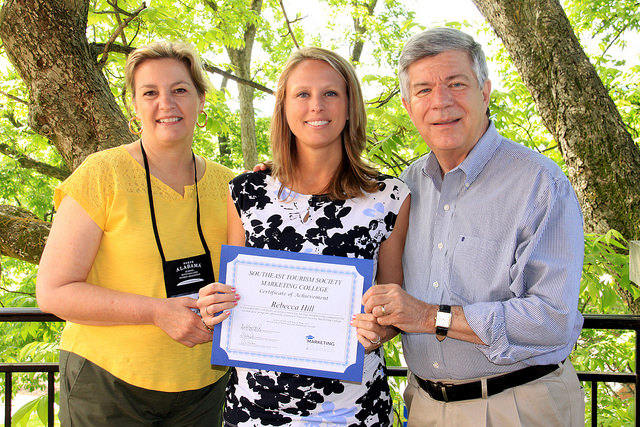 Pictured left to right: STS Vice President of Operations Suzanne Moon, Rebecca Hill, and Bill Hardman, past president and CEO of Southeast Tourism Society.
Georgia International Horse Park Assistant Director Rebecca Hillhas completed the three-year program of the Southeast Tourism Society Marketing College and earned certification as a Travel Marketing Professional (TMP).
Hill has been an employee of the Georgia International Horse Park, owned and operated by the city of Conyers, for 16 years. She was named assistant director of the facility in 2018.
Hill was among 62 STS Marketing College graduates who were announced at the STS Connections conference in Daytona Beach, FL, in early March. The program, which began in 1992, has produced 1,154 travel marketing professionals.
"STS absolutely is enhancing the professional skills of people throughout the Southeast and elevates the tourism industry," said Monica Smith, president and CEO of STS. "Earning TMP certification is a challenging combination of classroom work and special projects in the students' workplaces. Becoming a TMP takes dedication."
Study topics include tourism advertising, vacation research, crisis management, special events marketing, media relations, heritage tourism, tourism sales and community/rural tourism. In addition to classroom work, students must complete projects that relate to their employment.
"The knowledge gained from the instructors and real-life experiences and examples offered by my classmates at Marketing College were relatable and inspirational," said Hill. "The instruction and information have been applicable in all aspects of my position at the Georgia International Horse Park."
Hill is the fifth employee from the city of Conyers to graduate as a travel marketing professional from the Southeast Tourism Society Marketing College.