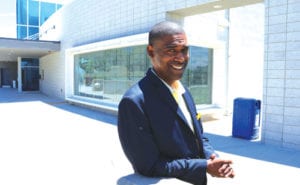 David Manuel says hundreds of people have signed up to walk or run in the "I Am A Father" 5K event that he is hosting on June 18 in DeKalb County.
The event, now in its second year, has grown from a small project to a mammoth event that will include a health fair with vendors providing free checkups, testing for HIV, wellness information and other resources. Manuel said people from all walks of life are participating.
"Last year, we had 86 participants for the 5K. This year, we have over 600," said Manuel, who is executive director of the Porter Sanford III Performing Arts Center and the author of the "I Am" series, which inspired him to create the 5K walk.
Manuel's "I Am" series is a collection of books that include "I Am A Father" and "I Am A Mother," which shine a positive light on African American achievements and include stories of ordinary fathers and mothers who are involved in their children's lives.
Manuel, who has devoted a lifetime to promoting the performing arts, said strengthening families, especially fathers, is his assignment from God—an assignment he says that has become even more critical since he suddenly fell ill and had to undergo a liver transplant in 2015.
"Promoting the performing arts is my passion. Strengthening families is my assignment," said Manuel, who said he hopes to be able to walk a portion of the 5K route.
"I really believe that it is important to highlight and celebrate fathers, which is why we are having this event on Father's Day weekend. We want to strengthen our families one mile at a time," said Manuel.
Manuel, who has two adult sons, Branden and Blake, points to staggering stats that paint a dismal picture of fatherhood among African Americans.
"Statistics show us that over 72 percent of African American households are fatherless.  Birmingham ranked No. 2 in the nation and Atlanta ranks in the top 10. We want to change that," Manuel said.
Representative from the DeKalb Board of Health, Kaiser Permanente and Life Link will be among the vendors providing healthcare services and information.
Manuel said proceeds from those who pay to walk or run in the 5K will benefit two organizations that mentor African American males: the Leadership Academy of the 100 Black Men of DeKalb County and the Hank Stewart Foundation.
Several organizations have created teams who will participate in the walk/run, Manuel said.
"It's about getting all of our men's organizations to stop working in silos and begin working together so that we can make an even bigger impact," said Manuel who plans to launch a conference next year in conjunction with the 5K event.
To register for this year's 5K walk, visit www.iamafather5k.org or for more information, email info@Iamafather5K.org