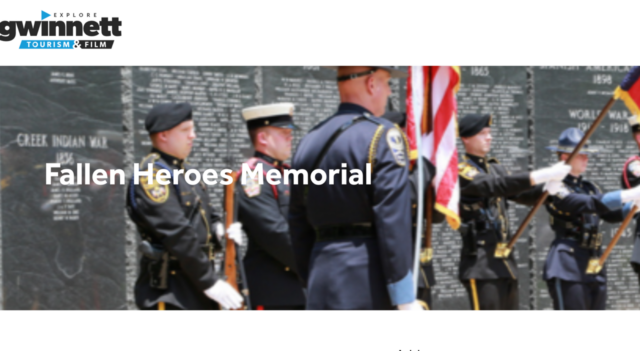 GWINNETT COUNTY, GA– Gwinnett County officials will honor four fallen military and public service heroes during its 19th Annual Memorial Day ceremony on Monday, May 30, 1 p.m., at the Gwinnett Fallen Heroes Memorial in Lawrenceville.
Three fallen heroes will be inducted into the Gwinnett Fallen Heroes Memorial:
Logan James Wade, who grew up in Gwinnett County and was employed as an EMT with American Medical Response. Wade was killed in September 2021 while rendering aid at the scene of a car crash on I-85 while en route to deliver supplies to first responders assisting in the aftermath of Hurricane Ida in Louisiana
Ronald Jean Donat, a Gwinnett Police recruit who experienced a medical emergency during physical training at the Gwinnett Police Training Center and passed away in October 2021
Lance Cpl. Jonathan Edward Gierke, a Marine from Lawrenceville who was killed in a military vehicle crash near Camp Lejeune in North Carolina in January 2022
The county will also recognize Constantin "Gigi" Bolof, an employee with the Gwinnett Department of Water Resources who was struck and killed by a vehicle while directing traffic around a construction site in September 2021. Bolof was inducted into the memorial in fall 2021 during a private ceremony.
The public is invited to attend the ceremony to remember Wade, Donat, Gierke, Bolof and other fallen heroes who have sacrificed their lives to serve and protect our nation and our communities.
The keynote address will be given by District 3 Commissioner Jasper Watkins III, a retired Army Lieutenant Colonel. He served 25 years as an Army pharmacist and completed an Army Fellowship in Medication – Use Safety and is the first African American in the armed forces and the state of Florida to achieve board certification with the American Society of Health-Systems Pharmacist Nuclear Pharmacy Residency Program. While in the service, he assisted in the placement of wounded personnel from the September 11 attacks on the Pentagon and helped lead pharmaceutical support for civilians in the aftermath of Hurricane Katrina and resupply operations immediately after Hurricane Andrew. Among other military decorations and honors, Watkins received the Legion of Merit — the highest peacetime military award — along with the Award of Excellence in Allied Health Care and the Order of Military Medical Merit.
Other officials scheduled to speak include District 1 Commissioner Kirkland Carden and District 4 Commissioner Marlene Fosque. A combined law enforcement honor guard will also participate in the ceremony.
The Memorial Day ceremony will also stream live on the County's Facebook page @GwinnettGov. It will be televised beginning at 8 p.m. on May 30 on TV Gwinnett, the County's local government access cable channel. TV Gwinnett programming is also available streaming and on demand at TVGwinnett.com.
The Gwinnett Fallen Heroes Memorial, located on the grounds of the Gwinnett Justice and Administration Center, 75 Langley Drive in Lawrenceville, honors all Gwinnett residents who died in the line of duty in military or public service.
The memorial opened in 2003 and was built with funds from private donations and Gwinnett County Government. For additional information about the memorial, visit GwinnettFallenHeroes.com.
For more info on exploring Gwinnett County and other things to do, visit: https://www.exploregwinnett.org/things-to-do