Randy Lewis Cato Jan. 20, 1956-Jan. 3, 2021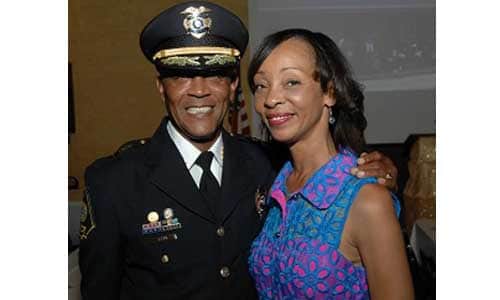 Pictured: Jeffery Cato and his wife, Kelly Cato, District 6 Coordinator for DeKalb County Commissioner Ted Terry mourn,  thank the community for condolences for Randy Lewis Cato. Jeffery Cato and Randy Cato were brothers. 
Randy Lewis Cato transitioned into this world on Friday, Jan. 20, 1956 in Lagrange, Georgia to Rev. Albert Cato, Sr., and Eldora Fish(e) Cato as the fourth of five children. He later moved to Decatur, where he called home.
Randy briefly attended Douglas High School, transferred and graduated from Columbia High School. He was an avid basketball player and a "hometown" sports fan. His first job was at the Hyatt Regency Hotel in downtown Atlanta. He later worked for Calico Corner for over a decade, DeKalb County Government, several years at Agnes Scott and the Hartsfield-Jackson Atlanta International Airport.
Those who knew Randy enjoyed spending time with him under the carport. He was naturally funny, and many would agree that he missed his calling and should have been a comedian. Randy kept it real and he was comfortable in his skin. He was obsessed with his waves and his pressed and starched jeans. Sometimes he would take 3 to 4 showers a day.
Randy's tree continues to flourish, and its' canopy extends arms to the next generations through his children: Demetric Gullat (Angela); Chrisma Cato Nolley (Landers Nolley, Sr.); Damareo Harris and Latresha Cato McKinnor (Rommel); along with 14 grandchildren and five great-grandchildren.
On Sunday, Jan. 3, 2021, Randy left behind struggle and survival, for freedom from suffering and rebirth to heaven. He leaves behind his step-father, Lewis "Pop" Cameron; his sister, Cynthia Cato Hickson; brothers: Albert Cato, Jr., Norris Cato, Ricky Lyons (Tina), Jeffery "Ke" Cato (Kelly), along with a host of nieces, nephews, great nieces and nephews, and cousins.
As Randy's spirit now flies across the skies, he is now at peace to reunite with his sister, Elaine; his father, the Rev. Albert Cato, Sr.; and his beloved mother, Eldora Cato Cameron along with other family members that were vital pieces of Randy's hope, harmony, and happiness.
Public viewing is on Friday, Jan. 15, 2021, 6-8 p.m., at Gregory B. Levett and Sons Funeral Homes & Crematory, Inc., 4347 Flat Shoals Pkwy., Decatur, GA 30034. A celebration of Randy Cato's life will be held on Saturday, Jan. 16, 2021, 1-2 p.m., at the same location. He will be laid to rest at Kennedy Memorial Gardens, 2500 River Road, Ellenwood, GA 30294.