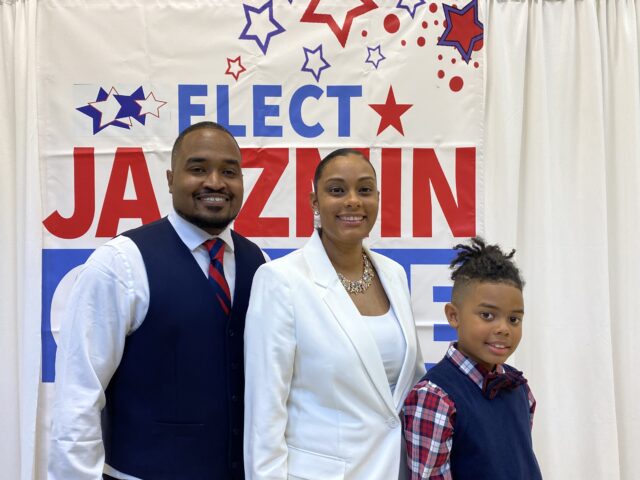 STONECREST, GA—It's official. Jazzmin Cobble qualified on Thursday, March 10, to run for mayor of the City of Stonecrest.
The City Councilwoman stated in a news release that she's ready to rebuild and reform the city.
"What an honor it was this morning to walk into Cty Hall and quality to run for MAYOR of the City of Stonecrest!,  Standing by my side was my husband David, carrying the torch with me. We are excited about all that is yet to come for the City of Stonecrest and with your support to be our next mayor, we will achieve that and much more," Cobble stated.
Cobble, who stepped down from the District 3 City Council to run for mayor, had served on the inaugural City County. She was sworn into office in 2017 and was re-elected in 2021 to a four-year term. In Jan. 4, 2022, however, Cobble announced plans to run for the unexpired term of Jason Lary, the city's founding father and first mayor. Lary resigned from office in February 2022 amid a federal fraud court case involving CARES Act relief funds.
"The future of our city rests in the critical work that lies ahead in rebuilding and reforming Stonecrest," Cobble stated in her news release. "Continuity between both branches of government will be the stronghold that reinstates confidence throughout our beloved community. Under my leadership, the mayor's office will work in lockstep with the city council to advance one unified agenda that will make our city one that we can all be proud of.
"Restoring hope to our residents and resetting the level of expectation for our business community helps us move the city forward, together. We accomplish this by working with our professional city manager to bolster sustainable policies, processes, standards, and principles throughout all the lines of service that the city provides.
Working alongside this fearless city council, we can once again be #StonecrestProud!"
Cobble laid out her plan of action to restore, rebuild and reform the city's government including utilizing professional management consultants to provide input on the administration of the American Rescue Plan Funds. Cobble also stated rebuilding efforts under leadership as mayor would include connecting the residential, commercial and industrial community through mutual beneficial agreements within the city's Planning and Zoning and economic development polices. She promised to stay in touch with the needs and desires of citizens and to streamline processes that make doing business with Stonecrest simple.
Photo: Stonecrest Councilwoman Jazzmin Cobble is pictured with her husband, David, and their son, Mason, at her announcement event on Feb. 10. Photo by Glenn L. Morgan