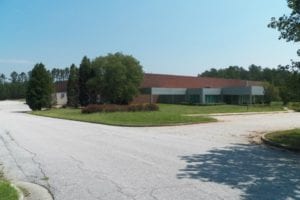 The former East Mountain Studios, 2030 East Park Drive, Conyers, is now Eastside Stageworks.
John Raulet, part owner in Mailing Avenue Stageworks and Westside Stageworks, assembled a group of local investors to purchase the property. The group pre-leased the studios to a major company already filming in the area and renamed the building.
"When we were presented with an opportunity to add a Conyers facility into the Stageworks family, we jumped at the chance," said Raulet. "There were two key factors that made this decision very easy: One, a very healthy industrial real estate market, and two, a very solid base of film infrastructure that serves the area."
Built by Takahashi Works in 1990 to manufacture front-end loaders and tractors, the plant closed in 2000. The property was purchased by Clarence Hall in 2005.
The 130,000-square-foot building on 23 acres remained empty until 2009 when Georgia's Entertainment Industry Investment Act (film tax credits) brought more than 300 film productions to the state.
The Conyers-Rockdale Economic Development Council (CREDC) says several films have been shot in Rockdale County over the last several years. Rockdale is home to Warner Bros. Entertainment, which currently leases approximately 350,000 square feet of production sound stage space in several buildings, employing more than 300 employees,. Twentieth Century Fox now leases 216,000 square feet of industrial warehouse space in two buildings, employing 300-plus employees.
"For the past 8 years, CREDC has facilitated leasing this industrial building and others in Conyers Rockdale as production sound stages for big budget feature films like Universal's Fast and Furious Five and American Reunion; Columbia Pictures' Zombieland; Sony Pictures' Goosebumps; as well as several smaller productions filmed for television," said Gina Hartsell, project manager and Camera Ready Film Liaison for Conyers and Rockdale County.