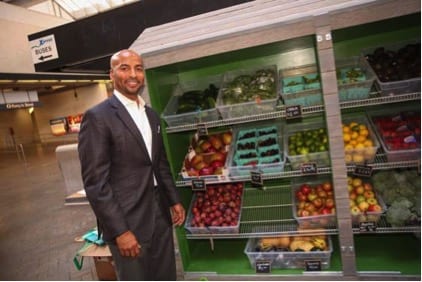 ATLANTA— MARTA will open fresh produce kiosks at four rail stations, the agency announced. Commemorating its third season, the Fresh MARTA Market opens with a ribbon cutting ceremony on Tuesday, May 2, 2:30 p.m. at the West End Station.
The markets provide a convenient shopping alternative for fresh, affordable and locally grown produce. Representatives from MARTA and partnering organizations will be on hand for the annual kick-off celebration.
"We realize that all communities don't have adequate access to fresh and affordable produce," said MARTA GM/CEO Keith Parker. "For us, the Fresh MARTA Market is an opportunity to help bridge that gap while promoting healthy meal choices."
Since its debut in 2015, the Fresh MARTA Market has continued to grow and now serves four rail stations—West End, College Park, H.E. Holmes and Five Points.
This year, the Atlanta Community Food bank will conduct screenings for the Supplemental Nutrition Assistance Program (SNAP) and the Childcare and Parent Services programs (CAPS), which offers childcare subsidies to some of Georgia's neediest families. Applications will be available at the West End, H.E. Holmes and Five Points stations.
According to Feeding America's Hunger in America 2014 study, more than 300,000 residents within MARTA's service area lack reliable access to sufficient quantities of affordable, nutritious food.
"The Fresh MARTA Market provides competitively priced, locally grown produce all within a transit accessible location," said Parker. "We have seen tremendous success from our Fresh MARTA Markets thus far as we continue to grow this program with this help of our tremendous partners and vendors."
The markets are managed in partnership with the Community Farmers Market; Atlanta Community Food Bank/Food Oasis-Atlanta; South West Atlanta Growers (SWAG); and Organix Matters.
Customers can purchase goods using cash, credit, debit or EBT. Shoppers can also use Georgia Fresh for Less, formerly SNAP 2-for-1. Under the program, every dollar spent at the market becomes $2 in goods for shoppers.
"Simply put, you can get twice as much at the farmer's market with Georgia Fresh for Less," says Sara Berney, Wholesome Wave Georgia's executive director. "We match SNAP and EBT – dollar for dollar – at participating farmer's markets, so consumers pay less for fresh, local food that is higher quality and more nutritious."
Customers will also find new "fresh value" stands, which offer a variety of prepared items including salads, breads, baked goods and additional products grown and sourced locally. "These additional vendors provide on-the-go, healthy options for our MARTA customers," Parker said.
Fresh MARTA Markets will be 3-7 p.m. at the following:
Tuesdays, May 2-Nov. 29, 2017
Wednesdays, May 24- Nov. 29, 2017
Thursdays, May 25-Nov. 30, 2017
Fridays, May 12-Dec. 1, 2017