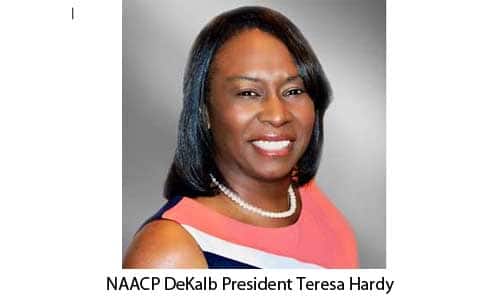 DECATUR, GA—The National Association for the Advancement of Colored People (NAACP) DeKalb County branch is celebrating the Juneteenth holiday with organizations in DeKalb County at six different locations. Branch members plan to join celebrations at  three AME churches as well as three cities that are hosting Juneteenth events:
City of Decatur
City of Clarkston
City of Stone Mountain
Antioch AME Church
New Birth Missionary Baptist Church St. Paul AME Worship Center
St. Philip AME Church
NAACP DeKalb President Teresa Hardy said there has been a groundswell of support in DeKalb for this year's holiday and people are excited about. Participating. DeKalb leads the State of Georgia in becoming the first to make Juneteenth a paid holiday, Hardy said. She said the branch is presenting a special video to help the community to mark the occasion.
"We are excited to collaborate with other groups and present to the community a video themed Why I Celebrate Juneteenth," said Hardy. "The video will be shown on Saturday, June 19, on our social media platforms."
The history of Juneteenth dates to Sept. 22, 1862 when President Abraham Lincoln signed the Emancipation Proclamation ending the Civil War between the Confederate South and the Union North. The act, however, did not take effect until it was issued on Jan. 1, 1863 declaring that all persons of African descent enslaved in Confederate states in America in rebellion and not in Union states were to be freed. However, word did not reach the state of Texas until June 19, 1865 when Union soldiers rode their horses into Galveston, TX on behalf of the federal government giving orders to slave owners to release their slaves from bondage. This day is now called Juneteenth or Freedom Day. It is the oldest-known celebration commemorating the ending of slavery in the United States.
To volunteer and support the NAACP DeKalb bh through donations, memberships (new, renewal or gift) and/or purchasing merchandise, visit www.naacpDekalb.org. For more information, contact the branch at info@naacpDeKalb.org or 404-241-8006.