STONECREST, GA—New Birth Missionary Baptist Church and World Vision will mark the one-year anniversary of the COVID-19 pandemic declaration on Saturday, March 13, at 10 a.m. during their weekly food distribution at 6400 Woodrow Rd. in Stonecrest. With 560,000 individuals fed through this program, the collaborative effort marks a sobering milestone for the ongoing pandemic's impact to local families and those now facing food insecurities.
Early last year, New Birth's  ministry program, The King's Table mobilized to help address local food insecurity faced by families in DeKalb County and surrounding areas. The effort began in January 2020 with 300 families taking advantage of free food and other in-demand household items. As the impacts of COVID-19 reached global proportions, New Birth saw a drastic spike in attendance, which now serves approximately 8,000 individuals each week.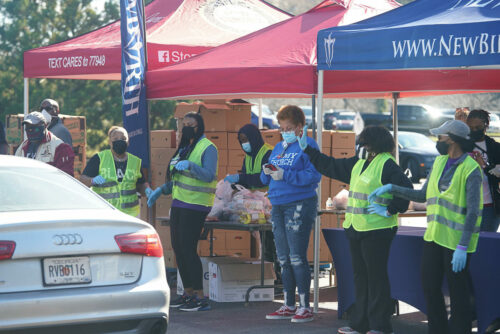 "Looking back on the first year of the pandemic, I think we can all agree that COVID-19 was beyond a health crisis, it was a financial one as well," said New Birth Missionary Baptist Church Pastor Jamal Harrison Bryant. "Our desire to be the hands and feet of God to serve our community remained the same. I'm in awe of all that God graced us to accomplish in partnership with like-minded organizations that answered the call to help when it was needed the most."
The collaborative effort has expanded beyond the DeKalb County community with partnering ministries based throughout the state of Georgia and beyond.
"It's always a blessing when World Vision can come alongside our church partners to help when it's most needed," said Nate Butler, innovative, engagement and growth strategist at World Vision. "What I'm most proud of is that our work together went beyond Atlanta. We were able to help New Birth scale significantly throughout the southeast region, assisting them to serve more individuals as well as churches in S. Carolina, Tennessee, Alabama and Florida, who in turn served their communities."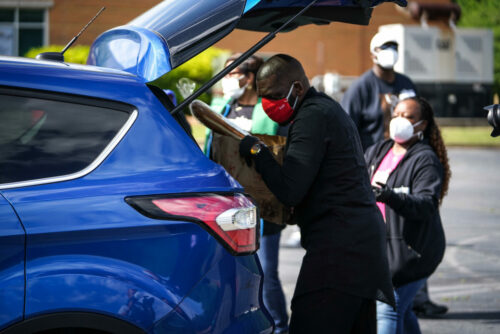 Since March 11, 2020, New Birth has also partnered with a number of organizations including DeKalb County Government, City of Stonecrest, Cigna and Diabetes Association of Atlanta to enhance the ongoing outreach effort.
"The pandemic has forced ministries to step outside the four walls of the church and reengage with the community in a new and dynamic way," added Bryant. "Lives are being changed and families are being nourished because of the love, support and generosity of our global community. We are blessed by the tremendous partnerships that have flourished in the midst of a storm."