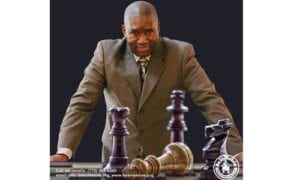 By Orrin Hudson
Be Someone Founder/CEO, Stone Mountain, GA
Those who were watching the Oscar Awards on Sunday night (March 27), no doubt saw actor Will Smith take to the stage and slap presenter Chris Rock after the comedian made an inappropriate joke about Smith's wife's shaved head style.
Jada Pinkett Smith reportedly suffers from alopecia, a hair loss condition caused when the immune system attacks hair follicles. Rock commented about Jada's "G.I. Jane" look but later said he did not know she suffered from the condition.
Although many have rushed to support Smith's actions in defense of his wife, I believe that Smith was wrong. Consequences of one's actions is one of the main tenets of my Be Someone mentoring program. I use the game of chess to teach young people to think before acting and that every move you make has a consequence, many of them life-changing.
Smith's knee-jerk, violent reaction, even well-intentioned, sent the wrong message to millions of his fans, many of them youngsters, who look up to him.  Two wrongs never make a right.
You should never let what someone says or does cause you to make a bad move. Life is just like the game of chess. We teach our students to think ahead and understand what might happen if they make a certain move. We teach them that all the moves you make are designed to protect your king.  If Will was playing his Oscar award-winning role in King Richard, his moves would have been to protect his King and not destroy the game. By acting without thinking, Smith detracted from what otherwise was a magical career night.
My message to young people is this: Think it out, don't shoot it out.  If Will had engaged his mind before moving, he would have realized there were better ways to handle the situation.
Young people today too often act without thinking and the focus of his program is to teach them they can be successful by making the right moves on the chessboard and in life.
The Academy has started a formal review and is exploring consequences for Smith's actions.
"The Academy condemns the actions of Mr. Smith at last night's show, the organization said in a statement. "We have officially started a formal review around the incident and will explore further action and consequences in accordance with our bylaws, standards of conduct and California law."
For more information about Orrin Hudson and his Be Someone program, visit www.besomeone.org.