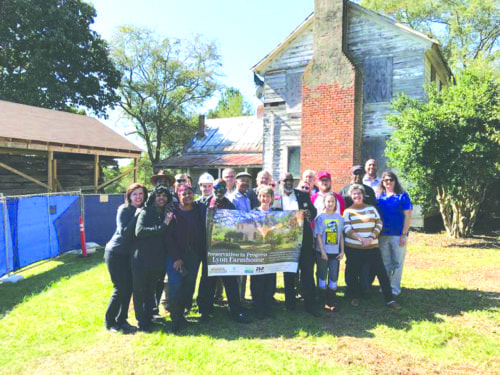 Representatives from the Arabia Mountain Heritage Area Alliance, DeKalb County government, contracting firm F. H. Paschen, the City of Stonecrest and others gathered on Oct. 30 to announce the beginning of the project to stabilize the oldest homestead in DeKalb County. Work on the $225,000 project should be completed by March 2019.
The Lyon Farmhouse, part of the Arabia Mountain National Heritage Area in Southeast DeKalb, will undergo renovations to secure the aging structure.
The Lyon Farm has been identified as a future site for tourism and youth education around DeKalb history. Connected to the broader Arabia Mountain National Heritage Area, the homestead will eventually tie directly into Atlanta's Beltline through the Arabia Mountain PATH, a multi-use trail currently 33 miles long. Once revitalized, the Farmhouse will connect greater DeKalb including the City of Stonecrest's urban and suburban present with its rural past.
The Lyon Farmhouse was initially built in the 1820s then expanded in 1853 and again in 1893.  The Lyon family owned and lived on the property until 2003 when it was purchased by the DeKalb County Department of Watershed Management (DWM). By 2016, a worsening state of disrepair resulted in its placement on the Georgia Trust's "Places in Peril" list, following which the DeKalb County Board of Commissioners unanimously authorized funds for the stabilization of the farmhouse. Repairs will predominately involve stabilization of the foundation and replacement of rotten framing, siding and the roof. Historic preservation of the Lyon Homestead has been – and will continue to be – a collaborative process, said Arabia Alliance Executive Director Mera Cardenas.
"So many people have done so much to be sentinels for this place," Cardenas said.
At the Oct. 30 event, attendees reflected on the importance of the homestead itself, as well as the importance of the National Heritage Area.
"FH Paschen is very excited to work with the Arabia Mountain Alliance and DeKalb Watershed on this historical house renovation. This is especially gratifying for me because I am able to give back to the community that I grew up in. I hope this project is something the entire community can be proud of," said Wayne Thompson, Operations Manager for Paschen's Georgia office.
About the Lyon Farmhouse:
The Lyon Farmhouse was built by Joseph Emmanuel Lyon, a former British soldier who was awarded 100 acres for taking the Oath of Allegiance after being captured and serving with the patriots during the American Revolution. Lyon originally built a log cabin on the property in the 1820s. It was expanded in 1853 and again in 1893, creating the structure that stands today. Built in a vernacular architecture style, the house and various outbuildings reflect a self-sustaining farm where cultivating cotton, apples, muscadines, pears, lemons, sorghum, and bees were a part of life. The homestead is the last remaining intact farm of what once made up the agricultural area called Flat Rock.