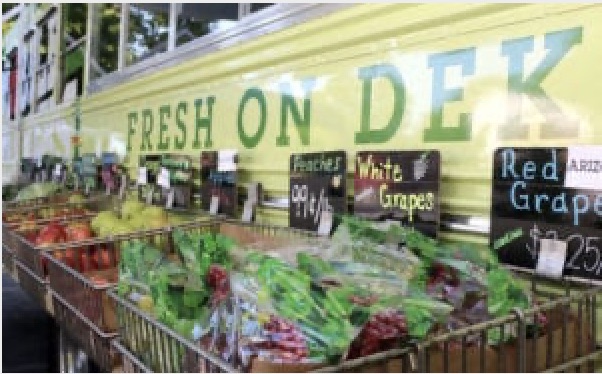 DECATUR, GA—DeKalb County Commissioner Robert Patrick is pleased to announce that Pleasantdale Park was selected as one of multiple sites throughout DeKalb County that will be home to the Fresh on Dek Farmers' Market.
The market provides guests with fresh fruits and vegetables in communities where access to nutritious food options might be limited.
The market rolled into Pleasantdale Park on May 25 and runs through July 13. Each Wednesday, from 5 to 7 p.m.  at Pleasantdale Park, guests will be able to receive pre-bagged produce while supplies last. Additionally, those who attend will have access to healthy recipes and nutrition information.
"With the prices of food increasing daily and pending recession looming over our heads, I am elated that the District 1 application was approved," Commissioner Patrick said. "Having the free Farmers Market Program in north DeKalb County allows us to increase access to healthier food options, which begins to improve the overall quality of health for our community."
Fresh on DeK, the DeKalb County Mobile Market, was created to educate residents living in communities designated as "food deserts" on the importance of healthy living and fresh, in-season produce.
Fresh on DeK is made possible with funding from the Centers for Disease Control and Prevention, DeKalb County Government, DeKalb County Board of Health, and UGA Cooperative Extension.
For more information on DeKalb County's Fresh on Dek sites and times, visit:
https://extension.uga.edu/county-offices/dekalb/fresh-on-dek.html