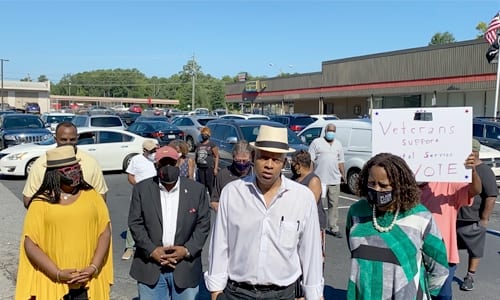 Congressman Hank Johnson is urging the public to speak out on proposed cutbacks and operational changes for the U.S. Postal Service.
Johnson issued a call to action at a press conference today (Aug. 19) outside the post office at Wesley Chapel Road in South DeKalb.
The press conference was held ahead of a vote expected this Saturday (Aug. 22) on legislation to add $25 billion to help the USPS. The House will be ending its summer recess early to return for a vote. Johnson is asking the public to contact their Senators and the White House to voice their support of Postal Service.
Johnson said President Trump and the new Postmaster General, Louis DeJoy, an ally of Trump, are trying to undermine the November elections with drastic cutbacks that could prevent mail-in ballots from being delivered on time.
Because of cutbacks, mail deliveries are inconsistent with some routes being skipped, residents have reported.