STONECREST, GA – On Friday, May 5 Congressman Hank Johnson announced the winners of his 2023 Congressional Art Competition by visiting the students at their respective schools in Chamblee and Conyers. Each year, this national competition calls on high school students of all backgrounds and skillsets to submit their art for the chance to showcase their winning pieces in their congressional district as well as in the U.S. Capitol.
"Every year, I'm impressed with all of our students' creativity and artwork," Rep. Johnson said. "It's one of my favorite district events of the year. And this year was no exception. I want to thank every student, their parents, art teachers and judges for participating this year."
More than 40 pieces of art were submitted by students in seven schools, including Alcovy High School, Chamblee High School, Galloway High School, Georgia Connections Academy, Lithonia High School, Newton County High School, Rockdale County High School.
The first-place winner was Margaret McNalley of Chamblee High School for her piece "Daydream." McNalley's artwork will also be displayed in the Capitol in Washington, D.C., where it will hang with other award winners from around the country for a year. She will receive two round-trip airline tickets to Washington, D.C., for the art reception and hotel accommodation.
Second place also went to a Chamblee High School student, Maggie Council for her piece "I of the Hurricane." Council's artwork will be displayed in the Congressman's Washington, D.C. office. Third place went to Emily Amos of Rockdale County High School for "Wave Bound Runner" and fourth place went to Emily Sharpe of Chamblee High School for "Folklore with Love."
Their artwork will hang in the Congressman's District office for a year. The second, third and fourth-place winners also received gift cards. The student's artwork was assessed by a panel of local judges: Ms. Kristen Kinder, Mr. Elmer Kinder, Dr. Maria Davis and Mrs. Marietta Murton. This year's art competition saw a total of 44 submissions from across seven high schools in DeKalb, Rockdale, and Newton counties. Every student who participated received a certificate of recognition signed by the Congressman.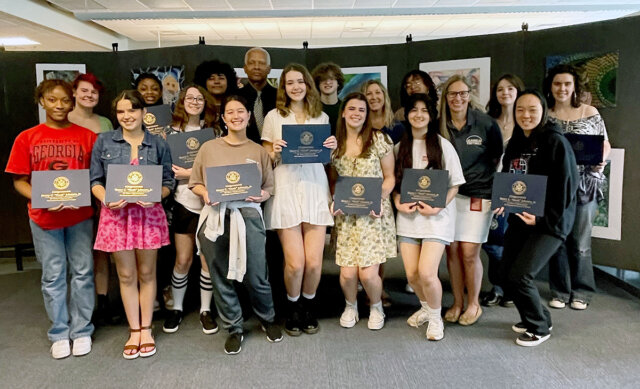 Chamblee High School students who participated in the Congressman's 2023 Congressional Arts Competition pose with the Congressman, Principal Gail Barnes and art teacher Kim Landers.
Rockdale County HS student Emily Amos, who earned third place in the Congressional Arts Competition for artwork "Wave Bound Runner," is shown here with the Congressman and her mother and grandmother.

Rockdale County High School students, administrators and teachers gather with Congressman Johnson to celebrate third-place winner Emily Amos.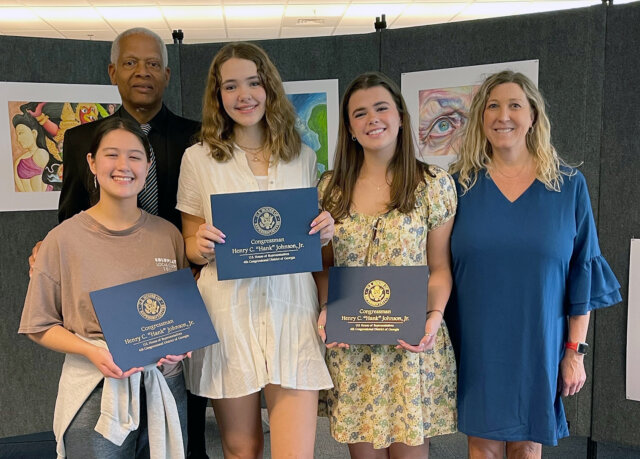 From left, Chamblee student Emily Sharpe finished fourth for her piece "Folklore With Love," Congressman Johnson, first-place winner Margaret McNalley who did "Daydream" and second-place winner Maggie Council, who was honored for her piece "I of the Hurricane."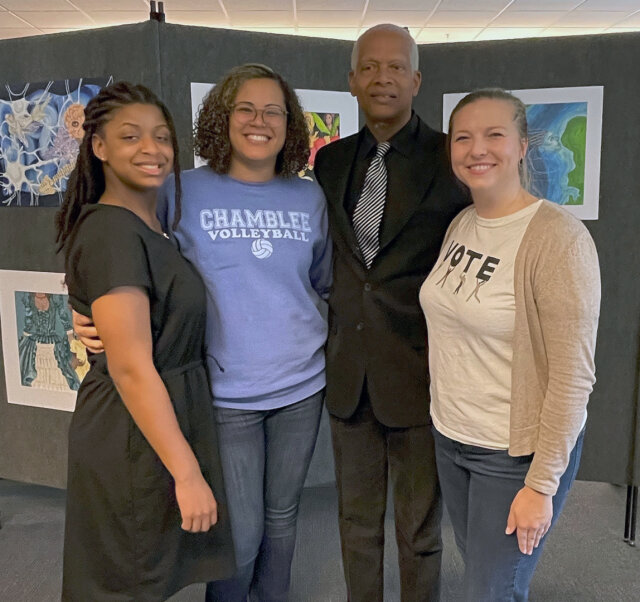 From left, Chamblee HS student Autumn Clark, parent and teacher Mallory Clark, Congressman Johnson, and teacher Chole Kaspar.