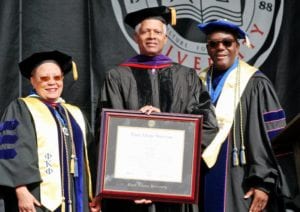 Congressman Hank Johnson (GA-04) received an honorary Doctor of Laws degree from his alma mater, Clark Atlanta University, during the university's 27th Commencement on May 16.
Johnson graduated from then Clark College in 1976 with a degree in Political Science. He went on to Thurgood Marshall School of Law in Houston, Texas, for his law degree in 1979. This is his first honorary degree.
"This is one of the highlights of my professional and public life," said Johnson, a former defense attorney, judge and county commissioner. Johnson has served in Congress representing Georgia's Fourth Congressional District since 2007.
"To be honored this way by my alma mater is a feeling I will not soon forget, and reaffirms that I have a duty to continue serving the people of Georgia in Washington in a way that pursues justice, equality and fairness for all people."
CAU President Ronald Johnson (no relation) said Rep. Johnson's "contributions to the state of Georgia, and general service to the Congress of the United States of America, to learning, and to humanity, coupled with intellectual gifts and moral qualities" were the underpinnings of why Johnson received the honorary doctorate.
Rep. Johnson was joined for the ceremony by his wife, DeKalb County Commissioner Mereda Davis Johnson, his mother Christine Callier, a 1950 Clark graduate, and his sister-in-law Jacqueline Davis.