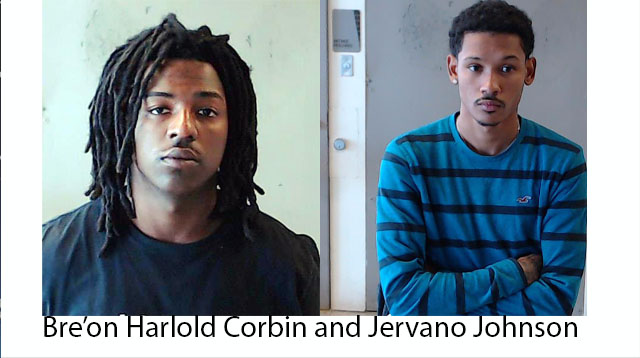 The DeKalb County Sheriff's Office Fugitive Unit, with other local law enforcement agencies, has arrested the second suspect in the Easter Sunday murder and armed robbery of a 19-year-old and 17-year old at a Brookhaven apartment complex.
Bre' On Harold Corbin, 17, was arrested on Tuesday, April 6, during a traffic stop near his residence in Lawrenceville. Corbin is charged with the April 4 murder in the shooting death and armed robbery of Domingo Paco-Camacho, 19, and armed robbery against Kevin Daniel Pano-Galvez, 17, both of Brookhaven.
The first suspect, Jervano Johnson, 19, of Norcross, was arrested Sunday night (April 4) at a home in Gwinnett County, authorities said.
Police said the robbery and shooting took place at the Knoll Apartments on Buford Highway in Brookhaven and allegedly involved a weapon, cash, a cell phone, and drugs.
Both suspects are being held in the DeKalb County Jail.
The DeKalb Sheriff's Office Fugitive Unit was assisted by Brookhaven Police Department Detectives, the Brookhaven Police K9 Unit, Gwinnett County Sheriff's Office Fugitive Unit, Gwinnett County Sheriff's Office K9 Unit and Gwinnett County Police SWAT.