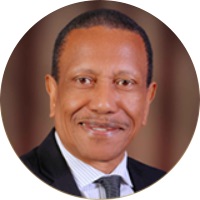 STONECREST, GA—Stonecrest Councilman Jimmy Clanton will face challenger Tara Graves in a runoff for the District 1 seat on Nov. 30.
Graves, who is seeking public office for the first time, led Tuesday's race with 41.94 % (325 votes). Clanton trailed with 37.68% (292 votes), according to unofficial preliminary results released by DeKalb County elections officials. Because neither received more than 50 percent of the vote, a runoff will be held to determine the winner.
Clanton, who is seeking a second term in office, was one of three incumbents who faced challengers for their City Council seats. Both council members, Tammy Grimes and Jazzmin Cobble, were overwhelmingly re-elected with more than 60 percent of the vote, for Districts 5 and 3 respectively.
Clanton issued the following statement today(Nov. 3):
To The Citizens of Stonecrest,
I want to express my sincerest gratitude to all of you that exercised your right to vote in this current election.  I especially thank the citizens of District 1 that have supported my campaign and turned out to vote for me. As you are probably aware, I did not receive the percentage of the vote needed to secure a win, so I will need you to turn out and vote for me again in a runoff election on November 30, 2021.
Throughout my life, I have worked as a public servant, in my career with the State of Georgia to becoming the President of the Stonecrest Community Civic Association before my role in the city council. My motivation has always been and still is to build a better, more efficient quality of life for the people of this state, my community, and this great city.
Unfortunately, within the last year, Stonecrest has been through challenging times. I have remained silent regarding the series of events because I have always been a person of integrity and felt my character and the truth would prevail in due time. I now realize many of you have wanted to hear from me directly regarding my perceived involvement in misconduct within the city. I will start to address those misconceptions directly in the upcoming days.
I will also share my voting records and accomplishments to show all the ways I have worked towards advancing this community. I am not in public service to advance the will of the current leadership, special interest, or the powers that be in any form.  I have always been a representative for you, the community, and if you give me the honor, I will continue to be that voice for you.  I join you in the desire of moving past the events of yesterday, to envision and create a better Stonecrest for all of us today.
Sincerely,
Jimmy Clanton, Jr.
City Councilman, District 1