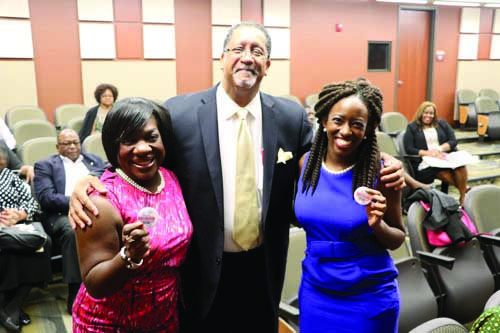 Stonecrest Mayor Jason Lary honored four state legislators, the mayor pro-tem, a news editor, an executive director, community leaders and several city employees at a recent city council meeting.  The honorees were all women.
"Citizens don't understand how we got here today," Lary said, referring to the city's recent progress as well as its inception.  "I want to honor this group of ladies because if it were not for the women of Stonecrest, there would be no city of Stonecrest."
The mayor's first honorees were former State Rep. Dee Dawkins-Haigler and State Rep. Dar'shun Kendrick were instrumental with getting key Stonecrest bills passed in the Georgia Legislature.  Dawkins-Haigler, Lary said, was the representative who brought Senate Bill 208 to the House of Representatives though many opposed her.
"Had Dawkins-Haigler not stood before the House with courage amongst all those people, there would not be a Stonecrest because we would not have been on the ballot," Lary said.
Lary also recognized State Representatives Pamela Stephenson, Karen Bennett, and State Senator Tonya Anderson, who were not able to attend the meeting.
Lary also honored Mayor Pro Tem Diane Daniels-Adoma for her support of the cityhood movement.  Special honors were also given to several community members including Stacey Thibodeaux, who worked to help form the city and served on the Governor's Commission for Stonecrest. Edwina Clanton was also honored.  Clanton was a key advisor for the Stonecrest City Alliance and is a member of the Parks of Stonecrest Neighborhood Coalition.  The mayor also recognized Susan Lee and Eleanor Alexander for the tireless support of the city before, during and after its formation. Lary recognized Michelle Emanuel, who also served on the Governor's Commission and Barbara Lee.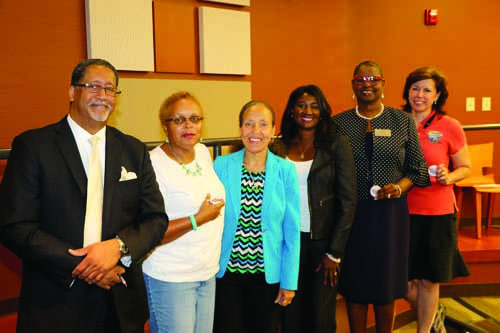 Lary honored DeKalb School Board Member Vickie Turner for her encouragement and and continued push for the city to make education one of its top priorities.  The executive director of the Arabia Mountain Heritage Area Alliance, Mera Cardenas was honored for her work in promoting the Heritage area as gem for residents and tourists.
The mayor honored On Common Ground News Editor Valerie Morgan for keeping the community abreast of the cityhood movement.
"Getting here is one thing. Staying here is another," the mayor said. He then recognized key members of the City Hall staff, calling them the foundation on which the city stands.  They are:
Nicole Dozier, Director of Community Development
Audrey Mays, Account Manager
Tiyuanna Daniel, Permit Technician
Lilian Lowe, Administrative Assistant
Brenda James, City Clerk
Leah Rodriguez, Assistant City Clerk and Administrative Assistant.
"These are the people who are holding up Stonecrest.  Regardless of what you hear or read, women rule Stonecrest. We can't do this without them.  I want you to know how we got here and how we are going to stay here," Lary said.