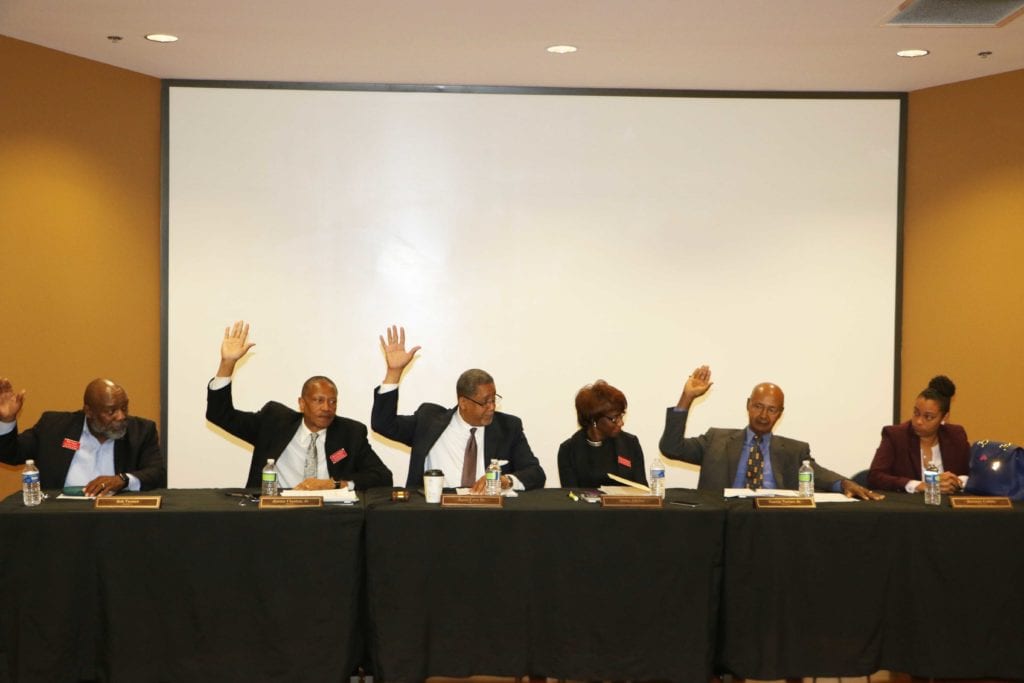 The tech giant, Amazon, could have its very own city carved out of the new city of Stonecrest, if officials can get past several hurdles to entice the company to come to Stonecrest and the city can gain approval from the Georgia General Assembly.
The idea for Amazon, Georgia is one that Mayor Jason Lary today urged the City Council to consider in thinking way outside of the box in luring Amazon, which plans to invest $5 billion in a second world headquarters that will create 50,000 high-paying jobs.
Three of the City Council members—Jimmy Clanton, Rob Turner and George Turner—said they liked the idea of taking a creative approach to capture Amazon's attention—even if the city's chances of luring Amazon to Stonecrest might be small.
Councilmembers Diane Adoma and Jazzmin Cobble, however, were concerned about not having constituents weigh in on the matter, and about the resolution being attached to legislation.
The council and mayor, in a 4-2 vote, wound up approving a resolution that would pave the way for the city to de-annex a portion of the municipality and name it Amazon, Georgia, contingent upon the corporation coming to Stonecrest.
The city is proposing de-annexing acreage in the Lithonia Industrial Boulevard to create Amazon, GA. to enter into an intergovernmental agreement with it to operate.
"They have asked every city to do something creative, something out of the box… I know it's fast. I know it's a tornado but the ability to compete on a world stage, we don't have a lot of time," Lary said.
Lary said the city needed to act swiftly because of the approaching Oct. 19 deadline in which all requests for proposals must be submitted to Amazon.  Jurisdictions in Georgia must submit their proposals to the Georgia Department of Economic Development, which will consolidate all of the proposals it chooses and submit them as one package to Amazon.
The city plans to amend a proposal it submitted on Sept. 21 to include the resolution, Lary said.
"Even if they didn't move their headquarters here, maybe they would consider bringing something else here," Clanton said.
Adoma said she voted against the resolution because there were too many questions that were unanswered.
"I just wasn't comfortable with it," Adoma said. "I'm for bidding on the proposal. I support bringing in high paying jobs. I think bidding on Amazon coming to Stonecrest is going to raise our profile. I'm just against the process that we're using to get there—the de-annexation wasn't discussed prior to today."
Amazon announced on Sept. 7 its plans to open HQ2, a second headquarters, in North America. The facilities would be equal to its campus in Seattle. Amazon said the new headquarters should have easy access to an airport with direct flights to Seattle, New York, San Francisco and Washington D.C.