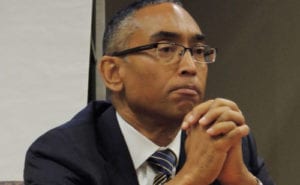 The Georgia Supreme Court today unanimously overturned the conviction of former DeKalb CEO Burrell Ellis, citing technical errors that occurred during his trial.
The court said in a 30-page opinion that while there was sufficient evidence to find Ellis guilty of perjury and attempt to commit theft by extortion, "we must nevertheless reverse Ellis' convictions based on certain evidentiary errors that occurred at his trial. Accordingly, we affirm in part and reverse in part to allow for a retrial on the charges of criminal attempt to commit theft by extortion and perjury."
The Court said the trial judge made a "harmful error" in allowing a Special Purpose Grand juror to testify at Ellis' trial in an effort to prove that Ellis made false statements that were key to the grand jury's investigation. Whether a false statement was key, however, "is normally an issue for the jury," the Court said. "… This was inappropriate."
The Court also said the trial court committed a reversible error by prohibiting Ellis from presenting any evidence of his interactions with several other vendors who were not named in the indictment.
The Court said because of those technical errors, the convictions must be reversed to allow for a new trial. DeKalb prosecutors will have to decide whether to re-try Ellis again, however.
Ellis was accused of trying to pressure a county contractor for campaign contributions. His first trial ended in a mistrial on Oct. 21, 2014 after a jury could not reach a unanimous verdict. The State retried Ellis on June 1, 2015 and he was found guilty of one count of attempt to commit theft by extortion and three perjury accounts. On July 8, 2015, Ellis was sentenced 18 months to serve, but was released from prison on March 1, 2016.
Meanwhile, DeKalb County issued the following statement on Supreme Court's decision:
"The county attorney has advised that Mr. Ellis' appeal to the Georgia Supreme Court is not final until the time passes for motions for reconsideration, which could be filed by either party.
The Georgia Supreme Court has ordered that such motions must be filed by Dec. 5, 2016.
During this interim period, the county attorney is evaluating the effect of the Supreme Court's order in the event that no reconsideration motions are filed or the Supreme Court denies motions filed by either or both parties," the county said in its news release.