By Essah T. Cole
I am still reflecting on the life-changing trip I recently experienced as a solo traveler. I spent three magical weeks in Ghana, four days in Morocco, four days in France, and two days in Spain. I could fill a book up writing about this trip, but I will leave you with some of the highlights of my time abroad.
When I first landed in Ghana, I cried because I never imagined traveling to Africa at the age of 24. My time in Ghana was divided between staying with my cousins, my classmates, and making new friends. Every person I met welcomed me. Many thought I was Ghanaian because of the tooth gap in my smile that they call "dimples" and the way I ate fufu and groundnut soup with my hands, as if I was raised right in the village.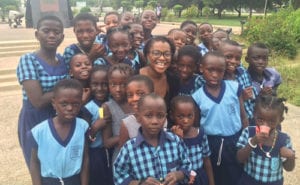 In Ghana, I traveled to Cape Coast and Elmina to visit the old slave castles, which allowed me to realize the intense sufferings that my ancestors faced as they entered "the door of no return" for a voyage to a new world where they were enslaved. I felt empowered, though, knowing that I am a descendant of survivors.
Beyond the "door of no return," I visited the Volta River where the Akosombo Dam provides electricity to the country. I toured the old king's palace in Kumasi and learned about the warriors of the Ashanti people. I visited Jamestown and the memorial of Dr. Kwame Nkrumah, who was Ghana's first president; and the W.E.B. Dubois memorial center (Dubois mentored Nkrumah).
After Ghana, I traveled to Marrakech in Morocco and I was hit by scorching heat and red dust during the month of Ramadan. Of course, I paid the fee of an overpriced taxi to travel to the Medina area, where it was busy with people. There were men and women dressed in their traditional gowns and hijabs, foreigners who wore modern day clothing looking at maps. There were motorbikes, taxi cabs, and brick buildings. The walk to my riad on the first day was quite difficult, but by the second day, I was able to easily find it.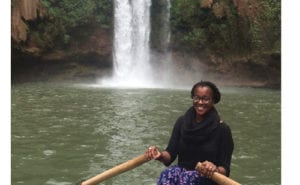 I toured Essaouira, a beautiful city on the coast. There, I saw fishermen selling seafood that I'd never seen before. I quickly made friends with a family and toured the city with them to sightsee and shop. We stopped at a restaurant and enjoyed the most delicious fish and shrimp for lunch and couldn't have been more satisfied. We also visited the Ouzud waterfall, where the view was amazing, and we enjoyed an hour hike where we snapped pictures of monkeys and fed them.
By the time I arrived in France, I felt more comfortable being alone and figuring out things to do on my own. I arrived in Beauvais, which is an hour and half train ride from Paris. The homes were so beautiful in their gothic styles, and it was so peaceful that I decided to stay an extra night at my Airbnb instead of getting a room in Paris. When I visited Paris, I used maps to get around, hopping on trains and roaming the city. The best thing about traveling alone is that you can do what you want, when you want. You have plenty of daylight time to do things since the sun doesn't go down until around 10 p.m. After Paris, I went to south France to Nice, and it was paradise filled with seaside shops, bars and restaurants.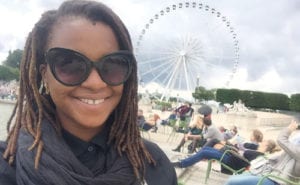 In Spain, I stayed with Colombians, whom I met in Morocco. They took me to Madrid where we went to supermarkets, ate tapas and drank beer. We laughed so hard as if we had known each other for years. I feel blessed to have experienced all these wonderful countries and people I met along the way. I'm blessed to say knowing English, Spanish, and French gave me the opportunity to hear great stories, and to share my own.
Essah T. Cole is a former intern for the Davis Bozeman Law Firm in Decatur. She is a graduate student studying English Literature at the University of Puerto Rico.