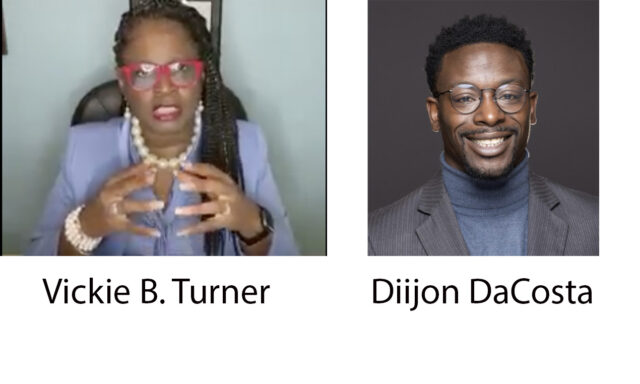 Vickie B. Turner was re-elected for a second term as chair of the DeKalb County School Board and Diijon DaCosta was re-elected vice chair for the second consecutive year.
The board unanimously returned both, Turner and DaCosta, to leadership roles on Jan. 10 after Turner and DaCosta nominated one another. The terms are for one year. The board is comprised of seven members.
Turner said she welcomes the opportunity to continue to work with fellow board members and the community.
"I look forward to ongoing positive collaboration with my colleagues on the board, as well as our community partners," said Turner.
The DeKalb School Board is expected to continue to address several key issues during the pandemic, including keeping students on track for success, she said.
"The prevailing issues that the school districts across the country are facing are:
Keeping students and staff safe
Strategies of recovery to address learning loss
Retaining and recruiting qualified staff who are here for the long haul.
"Additionally, the school district must approve a Comprehensive Master Plan that will guide our growth and sustainability over the next 10 years," Turner said. "My concern is fostered in hope, and that we get it right."
Turner has served since 2014 as a school board member representing District 5. A DeKalb County resident for more than 20 years, Turner is a former educator with 24 years experience.She served as co-pastor of Augustine Chapel with her husband, Rob Turner, who serves on the Stonecrest City Council. Mrs. Turner received her master's in education degree from Troy State University and a bachelor of science degree from Bowling Green State University. She is a member of Delta Sigma Theta Sorority, Inc.
DaCosta has served District 6 since 2018. Before his election, he worked as an educator for the DeKalb County School District and as a staff member of DeKalb County's Department of Human Resources.DaCosta graduated from Redan High School and obtained his bachelor's degree from Kennesaw State University (KSU) in sociology, with a concentration in criminology. While attending KSU, he served as a charter member to establish Omega Psi Phi Fraternity, Inc. on the university's campus. He founded DeKalb Kids Project, Inc. (DKP), a nonprofit that focuses on academic success and leadership.